Butterflies (Year 2)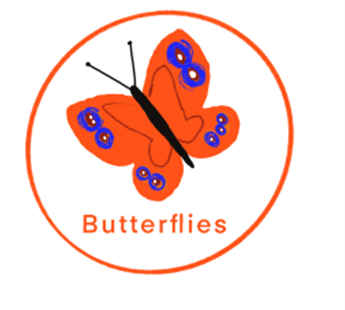 Welcome to the Butterflies class!
Year Two marks the end of Key Stage One for the children and is an especially important year, as we have the Key Stage 1 SATs. Therefore, we will be working extra hard this year to make sure we make lots of progress and prepare ourselves for the harder work to come in Key Stage 2. Developing our reading skills in Year 2 is vital and you can really help at home by ensuring you hear your children read and discuss the books with them every day. Developing our handwriting, including writing in a joined-up cursive style, is something we will practise every week. Year 2 is the year where we also work extra hard on making sure we have a good understanding of those key maths skills, from ordering numbers to understanding multiplication and division.
The adults who work in the Butterflies class are:
Miss Webber, Mr Williams, Mrs Skilton, Mrs Zghari and Mrs Brett
Homework: Homework will be handed out on Thursday and will be collected in on Wednesdays.
PE: Thursday and Friday afternoons, in the Autumn term children will come to school in PE kit.
Useful website links:
Phonics resources:
www.phonicsplay.co.uk username: RoyalKent Password: Royal10
www.spellingplay.co.uk username: RoyalKent Password: Royal10
https://monsterphonics.com/wp-content/uploads/2020/09/Phonics-Screen-Year-1-unprotected.pdf
https://www.phonicsbloom.com/uk/game/list/phonics-games-phase-5
End of Year expectations: Year 2 EOY expectations
Please click below for the suggested reading wall for this year group